The decision was made to name the chapter for Andrew Bogle because the organizing regent was descended from Andrew Bogle.
Now, who was Andrew Bogle, and from whence did he come? We surely need to know something of the man for whom we have named ourselves. The name Bogle is Scottish and means ghost.
Joseph Bogle's will was written on December 14, 1789. When it was probated in Knox County, North Carolina (now Tennessee), on July 17, 1792, six of his children were living.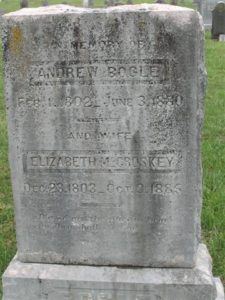 The Reverend Samuel Thompson married Andrew Bogle to Elizabeth Campbell, daughter of Hugh Campbell of York County, Pennsylvania, on May 24, 1774, in York County, Pennsylvania. Ramsey wrote in his Annals of Tennessee that Andrew gave the land in Knox County, North Carolina, for the Eusebia Church, which he established (eight miles northeast of Maryville, Blount County, Tennessee) and supported as long as he lived. Eusebia,a Scotch-Irish Presbyterian Church, was at Bogle Settlement. The Bogles moved to Blount County, North Carolina, around 1784-1786.
The Territorial Assembly met on the last Monday in June, 1795, to discuss the possibility of forming the territory into a state and to take the proper steps to effect it. The machinery of Blount County was set into motion in September, 1795. Andrew and two others were appointed judges for election of delegates to the State Constitutional Convention. In 1796, John Sevier, Governor of Tennessee, appointed Andrew as one of the Justices of the Peace. Andrew Bogle died November 29, 1813, in Blount County and is buried at Eusebia Church with most of his family.
Andrew not only served his God, he also served his country.
In 1776, he served with Captain James Miller's 4th Company, Cumberland County Militia, 6th Battalion. In October of 1777, he served with Captain John Hamilton's Company, Cumberland County, 5th Class of Militia.
In 1778, he served with Captain Thomas Askey's Company, 6th Battalion, Cumberland County Militia. In 1781, he was under Colonel James Dunlop in the 8th Company Cumberland County Militia; and on August 1, 1782, while serving with Colonel Dunlop, he was mustered out. The only records found among his papers list him as a private.
During the American Revolution, his family lived at Cumberland County, Pennsylvania, and Rockingham, Virginia.
[Taken from the Andrew Bogle Chapter Yearbook, copyright by the Andrew Bogle Chapter, NSDAR, all rights reserved.]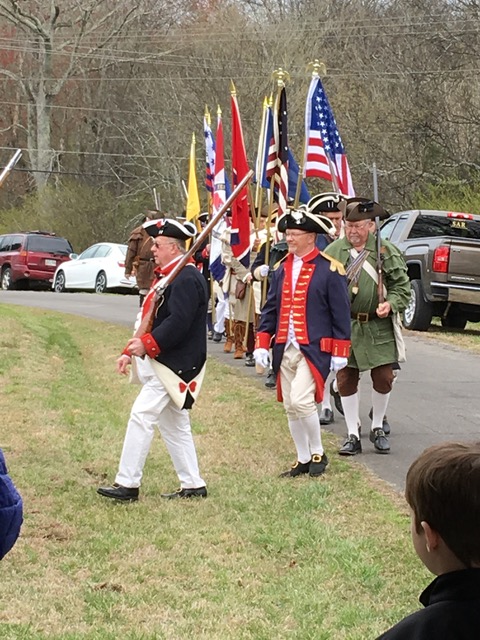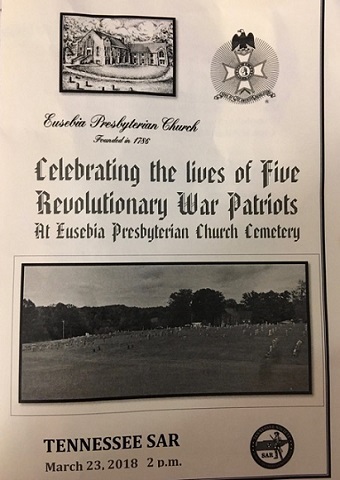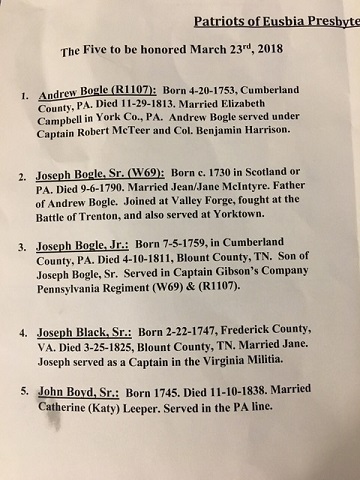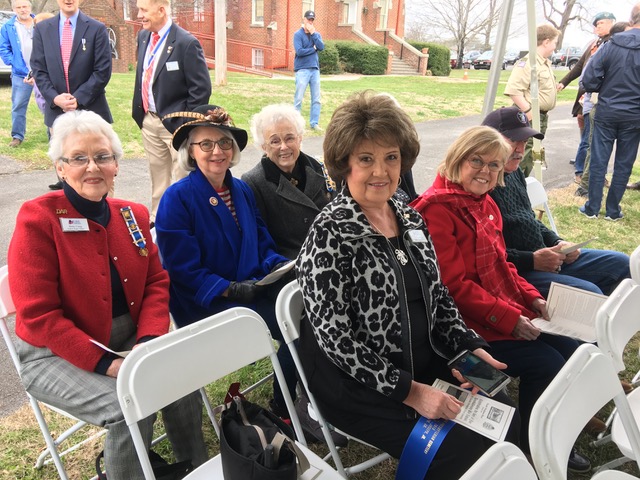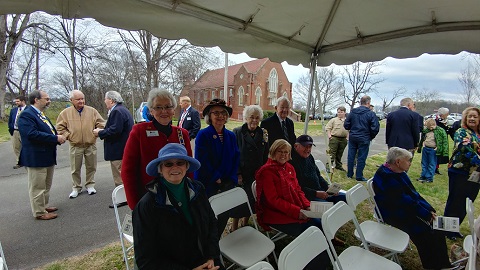 Drama Roberson, Evelyn Miller, Betty Craig, Pat Chambers, and Suzanne Graham
March 23, 2018 Andrew Bogle Grave Marking