Welcome to the Ephraim McLean Chapter DAR,  Waynesboro, Tennessee.
Membership in the Daughters of the American Revolution (DAR) honors your patriot ancestor and preserves your patriot's legacy.  As a member of DAR, you, too, can continue the legacy of those who dreamed of the country we all celebrate today.   
The goal of the DAR is to preserve the memory of those men and women who fought or gave service in the cause of freedom and independence during the American Revolutionary War. 
The DAR objectives are historic preservation, patriotism, and education, and our motto is "God, Home, and Country".
Please take time to explore our web site and learn more about our DAR chapter. As proud members of the DAR,  we invite you to visit our chapter.  We would love to have you join us. 
President General's Theme

"Preserve the Past,
Enhance the Present,
Invest in the Future"
Today's DAR
Visit the Official Channel of the DAR, which gives a snapshot overview of
service programs and members who make the DAR so special and worthwhile.
NSDAR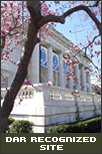 Web hyperlinks to non-DAR sites are not the responsibility of the NSDAR,
the state organizations, or individual DAR chapters.
This web site is maintained by webmaster,
Jan Jordan Lokensgard (Old Glory Chapter)
Last updated 08/28/2012