Web hyperlinks to non-DAR sites are not the responsibility of the NSDAR, the state organizations, or individual DAR chapters.
Website maintained by Phyllis Shoe, Webmaster. Site last updated May 5, 2017.

Join DAR
Officers
Activities
Awards
Home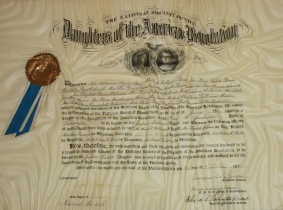 A MESSAGE FROM REGENT BETH BATES
In 2016, the Jackson-Madison Chapter of the National Society Daughters of the American Revolution celebrates 115 years of service and looks forward to the next 100 years. We are a nonpolitical community service promoting education, patriotism and historic preservation. In particular, we support the following goals or objects of the National Society:
1. To perpetuate the memory and spirit of the men and women who achieved American independence, by the acquisition and protection of historical spots and the erection of monuments; by the encouragement of historical research in relation to the Revolution and the publication of its results; by the preservation of documents and relics, and of the records of the individual services of Revolutionary soldiers and patriots; and by the promotion of celebrations of all patriotic anniversaries;
2. To carry out the injunction of Washington in his farewell address to the American people, "to promote, as an object of primary importance, institutions for the general diffusion of knowledge," thus developing an enlightened public opinion, and affording to young and old such advantages as shall develop in them the largest capacity for performing the duties of American citizens;
3. To cherish, maintain and extend the institutions of American freedom; to foster true patriotism and love of country, and to aid in securing for mankind all the blessings of liberty.
Any woman, regardless of race or creed is eligible for membership in the National Society of the Daughters of the American Revolution who is not less than eighteen years of age, and who is lineally descended from a man or woman who, with unfailing loyalty to the cause of American Independence, served as a sailor, or a soldier or civil officer in one of the several Colonies or States, or in the United Colonies or States or as a recognized patriot, or rendered material aid thereto, provided an applicant for chapter membership is personally acceptable to the chapter.