Welcome to Long Island Chapter
Welcome to the Long Island Chapter NSDAR. We are a
non-profit, non-political, volunteer organization located in East Tennessee.
We would be pleased to welcome you to one of our meetings on the third
Tuesday, September through June. More information can be obtained by
clicking the tab of your choice from the menu to your left.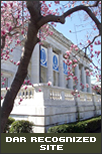 Web hyperlinks to non-DAR sites are not the responsibility of the NSDAR,
 the state organizations, or individual DAR Chapters.
Last updated November 18, 2009
Webmaster – Stephanie Bohrman - River City Chapter