Our History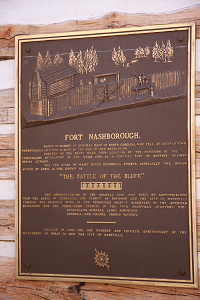 Fort Nashborough Chapter NSDAR was formed in 1931 and is named for the first permanent settlement of Nashville, which dates back to 1770, when two parties of settlers, led by John Donelson and James Robertson, established a fort, enclosing two acres along the banks of the Cumberland River. The present Fort Nashborough historic site was reconstructed in 1930 and then rebuilt in 1962 on a smaller scale than the initial two-acre enclosure. The fort recreates the construction techniques and unadorned look of the early settlement landscape of Davidson County..
The local Daughters of the American Revolution, led by Lizzie Elliott, funded the fort's reconstruction as part of the organization's national effort to identify and preserve historic places in the early twentieth century.
During 2010, the local Daughters of the American Revolution assisted in efforts to maintain the fort in its current location. The fort was included on the National Register of Historic Places in July, 2011. Pictured below are DAR members who attended Fort Nashborough Day on July 23, 2011. Members of the Fort Nashborough chapter dressed in period costume to participate in the festivities.