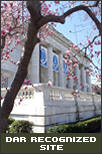 Our Chapter History
Our chapter honors one of the most distinguished pioneers of Tennessee, Daniel Smith, son of Henry and Sarah Crosby Smith. Of English origin, Daniel was born in Stafford County, Virginia, on October 28, 1748, and died at his home, Rock Castle, in Sumner County, Tennessee, on June 6, 1818.
A surveyor by trade, in 1773 General Smith moved to Augusta County, Virginia, and became deputy surveyor. He fought in the Indian Wars of 1774 and was major of the Washington County militia and High Sheriff of Augusta County in 1780. He was commissioned Colonel in the Second Battalion and fought in several Revolutionary War battles. At the close of the War, General Smith moved to Sumner County, Tennessee, where he was instrumental in the plotting and laying out of Nashville. As a member of the North Carolina convention, he helped ratify the United States Constitution of 1789. Through an appointment by President George Washington he became Secretary of the territory south of the Ohio River in 1790.
In 1796, General Daniel Smith helped draw up the constitution for the new state of Tennessee; he also made the first state map. General Smith became General of our State Militia, and was appointed to the United States Senate, filling the vacancy caused by the resignation of Andrew Jackson. He was elected to the next Senate seat, and he served until March 31, 1809, when he resigned.
June 6, 1818: "General Daniel Smith - soldier, statesman, student and philosopher - died and was laid to rest in the family burying ground on his Rock Castle estate. In his declining years his great interest was in the companionship of his wife, the education of his grandchildren, and the enjoyment of his books. According to the General's Will his fine library went to his son George; while his still, reputed to turn out the best liquor on the Cumberland, was left to his beloved wife Sarah. His son George had a son Harry who was the father of Mrs. Nannie Smith Berry, who inherited the Rock Castle estate and lived in it for many years. Built from limestone, the scene of five generations, the mansion still stands in Hendersonville, Tennessee, as sound today as when built. Rock Castle and eighteen acres of the original five thousand acre estate were purchased by the State of Tennessee in 1969 as a historic site to be managed and restored by the Friends of Rock Castle. General Daniel Smith was a very distinguished gentleman and we are honored to name our DAR chapter in his recognition." 1
On June 9, 1966, in Old Hickory, Tennessee, thirteen ladies gathered to form this chapter of the Daughters of the American Revolution. Most of these ladies were very active in the organization, with many fulfilling the position of regent. Following are the original organizing members:
* Miss Flossie Cloyd, organizing regent
* Mrs. Emily Ernst
* Mrs. Margaret H. Rizor
* Miss Glenna May Dailey
* Mrs. Margaret Melvin
* Mrs. Margaret Hadley
* Mrs. Lucile Rizor
* Mrs. Mary Lou Hadley
* Mrs. Lockie Dickerson
* Mrs. Alice Shirey
* Mrs. Glenna Dailey
* Mrs. Nannie Birdwell
* Mrs. Ruth Robinson
A special lady we must also recognize was Miss Sarah Berry, daughter of Mrs. Nannie Smith Berry, and great-great-granddaughter of General Daniel Smith. "Miss Sarah" was a member of our chapter and life member of the DAR.
1 Lozier, Dorothy Greene, "General Daniel Smith," c1970, para. 21