Projects and Activities
Rhea-Craig Chapter is committed to the DAR objectives of patriotism, historic preservation, and education. We participate in many programs, activities, and projects to support these goals. We eagerly support projects on the local level as well as the national level.
Historic Preservation
               Soloman's Temple Cemetery Restoration Project                            
In spring 2019 Rhea-Craig Chapter, Sweetwater, TN began  restoration of  Soloman's Temple Cemetery in Vonore, TN where 99 African-American and Cherokee souls are buried.  A $9,000 grant from CNS Community Investment Fund distributed by Y-12 paid for the removal of extensive forest overgrowth made worse by the overwhelming cover of poison ivy and other invasive vines.  Graves were severely sunken; many stones were broken, and worn.
After months removing trees and vegetation, restoring and re-setting grave markers, we learned that an African American Civil War veteran named James McGhee, was buried there but his grave was unmarked.  Born in 1837, McGhee served during the Civil War as a member of the U.S. Colored Heavy Artillery. He survived the war and lived until 1927.  When U.S. Veterans Affairs learned about McGhee they furnished a stone marker for him. In September 2019 it was delivered and set. The inscription reads: James McGhee. Born August 8, 1837. Died August 16, 1927.  During slavery, African Americans had to bury their dead in remote areas after dark and many graves were unmarked.  To honor all buried there, a permanent sign listing all 99 souls buried at Soloman's Temple Cemetery will soon stand at the entrance.
Celebrating Suffrage
A nearly 6 foot tall multi-dimensional exhibit celebrating the 19th amendment was obtained from the National Archives in Washington DC and displayed at the Sweetwater Public Library. It was filled with detail and photographs and was very popular during the months of August and September.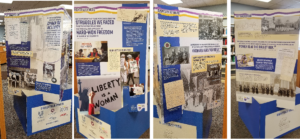 Educational Programs
The DAR Youth Citizenship Medal
The DAR Youth Citizenship Medal was established to foster among schoolchildren a greater appreciation of the qualities of citizenship Americans must possess if our country is to remain sovereign and independent.  This medal is presented to a student who exemplifies the qualities of honor, service, courage, leadership, and patriotism.
The program is open to individuals in grades 5-11.
There may only be one medal awarded per grade per school.
The medal may also be awarded to youth service and patriotic organizations.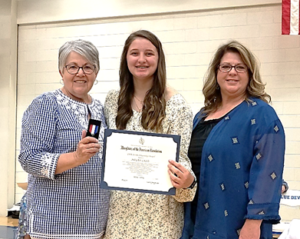 Rhea-Craig members Jane Yates & Elisha Lee Conley present the DAR Youth Citizenship Medal to Megan Ladd, Vonore, TN Middle School 8th grade. 
Honoring our Veterans
Rhea-Craig members gathered at the Veterans Cemetery in Chattanooga to participate in the Wreaths Across America Program, to place wreaths on the graves of America's veterans.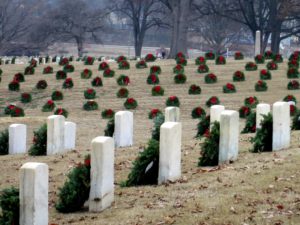 Historic Sites
Rhea-Craig members are dedicated to providing support for the many historic sites in southeastern Tennessee. In addition, we participate in ceremonies that recognize men and women who have contributed to our rich history.
Rhea-Craig, Nancy Ward, Alexander Keith, Avery Trace, and Ocoee Chapter Daughters participated in the dedication of new markers at the gravesite of Nanyehi, an 18th century Cherokee Native American woman.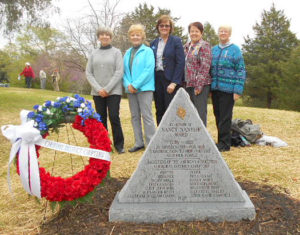 Honoring our Patriots, Veterans and Active Service Members
Rhea-Craig daughters "planted" a flag garden on the grounds of the Sweetwater Public Library to pay tribute to the women and men who have served and continue to serve our country.