Our Chapter History
In December 2007, plans were set in motion for a new vibrant, and active chapter. By April 2008, the Emory Road Chapter, NSDAR, was organized with eighteen members. Martha Fuquay Cummings was named organizing chapter regent. On October 25, 2009, a delightful chartering ceremony was held at the East Tennessee Historical Society.
Throughout the years, the chapter members have volunteered many hours of work for veterans by participating in pinning ceremonies, memorial events, and wreath-laying ceremonies. Also, the chapter has supported education by providing materials during Constitution Week and donating supplies to local schools and DAR schools.
The Emory Road Chapter, NSDAR, members are very active in both national and state committees. One of the first active committees was the Junior American Citizens, and it continues to be a very successful program. Students in area schools participate in contests. Chapter members visit the local veterans' home and distribute greeting cards and participate in the veterans' parade. Historic preservation awards have also been presented to individuals who have dedicated their time and effort to the preservation of historic sites and in preserving history through books and media.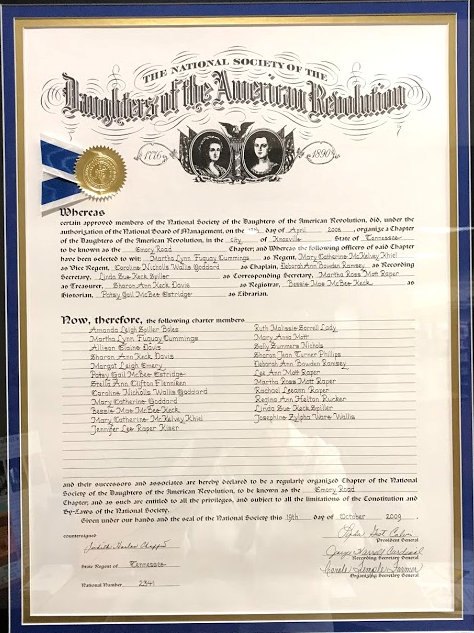 Emory Road Chapter, NSDAR, Charter Members
Martha Lynn Fuquay Cummings, Organizing Chapter Regent
Amanda Leigh Spiller Boles
Margot Leigh Emery
Mary Catherine Goddard
Jennifer Raper Kiser
Sharon Turner Phillips
Martha Ross Mott Raper
Josephine Zylha Ware Wallis
Allison Elaine Davis
Patsy Gail McBee Keck
Ruth Malissie Sorrell Lady
Deborah Bowden Ramsey
Rachel Leann Raper
Sharon Ann Keck Davis
Caroline Wallis Goddard
Mary Catherine McKelvey Khiel
Mary Anna Mott
Lee Ann Mott Raper
Linda Sue Keck Spiller
The History of the Emory Road
Emory Road Chapter, NSDAR, was named after one of the most well-known roads in Knox County. The original "Emery Road" followed closely some sections of an old Indian trail from the area now known as East Tennessee to what is now Middle Tennessee. More direct and shorter than the Wilderness Road, it would accommodate the expected increases in immigration as American Revolutionary War veterans claimed their land warrants. Several forts, such as Sawyers Fort and Fort Reynolds, were erected along Emory Road.