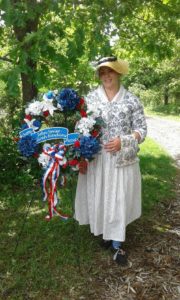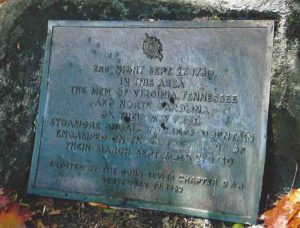 The John Sevier Chapter, the oldest DAR chapter in upper east Tennessee, was organized January 28, 1908, with twenty-three members. Miss Arnell Mays was the Organizing Regent. Members decided on naming the chapter John Sevier since several women were descendants of John Sevier and his brother Robert.
Three John Sevier Chapter regents have served as Tennessee State Regents. Maxie Cox Slack served from 1926-1928, Torrey Stanley Harris from 1934-1936, and Mattie Wardlaw Mettetal from 1971-1974.
The Sarah Hawkins Chapter was organized April 28, 1938, with thirty-eight members. Mrs. Octavia Wofford Copenhaver was the Organizing Regent. The chapter was named after John Sevier's first wife Sarah Hawkins.
In 2014 the Sarah Hawkins Chapter merged with the John Sevier Chapter and the merged chapters became the John Sevier-Sarah Hawkins Chapter.
The chapters have placed over thirty-five markers in Tennessee and North Carolina. The most notable are placed along what is now the Overmountain Victory National Historic Trail. These mark the Overmountain Men's march to Kings Mountain.
Located in Johnson City, Tennessee, our members are a diverse group of women from Washington, Sullivan, Carter, and Unicoi Counties. We volunteer in our communities to carry out the Daughters of the American Revolution objectives of promoting patriotism, historic preservation, and education.
The content contained herein does not necessarily represent the position of the NSDAR. Hyperlinks to other sites are not the responsibility of the NSDAR, the state organizations, or individual DAR chapters.
(Click on Images for Slideshow)
Image Credits: John Sevier-Sarah Hawkins Chapter, NSDAR