History of the Tennessee Society DAR
The National Society DAR was founded on October 11, 1890, by four women of unique and diverse backgrounds with a common goal to unite our country with others sharing American Revolutionary War ancestors who fought for our freedoms and equality. The Tennessee Society was established on December 18, 1892, with the organization of the Hermitage Chapter in Memphis by State Organizing Regent Mildred Mathes. The founding members of the National and State Societies were patriotic women who saw a need for a "patriotic, historical, and genealogical" organization which would carry forward the legacy of the founders of America by preserving historic sites and objects, promoting knowledge of American history and citizenship, and fostering true patriotism and love of country among the American people.
Since that time, our organization has been dedicated to the objectives of historic preservation, education, and patriotism, and our many areas of work continue to reflect those goals. From our role in selecting the placement of the John Sevier statue in Statuary Hall, Washington, D.C., to our creation of the official Salute to the Flag of Tennessee, our contributions to the ideas of these three goals remain strong and steadfast.
Today the Tennessee Society operates as a 501 (c)(3) non-profit and has grown to over 90 chapters across the state and more than 6,000 members each sharing a common bond of family that aided the American Revolutionary War effort. We invite you to learn more about our work.
Salute to the Flag of Tennessee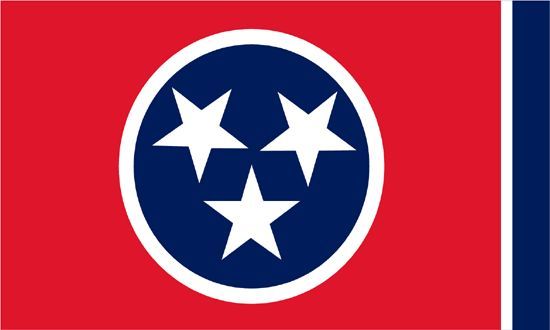 The Tennessee Society is credited with the creation of the first official salute to our state flag. State Regent Lucy Steele Harrison (1981-1983) wrote a short poem as a salute to the Tennessee state flag, and this poem had been adopted by the TSDAR as part of the flag ritual.
"Three White Stars on a field of blue
God keep them strong and ever true
It is with pride and love that we
Salute the Flag of Tennessee."
This poem was officially adopted as the salute to the Tennessee state flag by the 92nd Tennessee General Assembly on March 5, 1981, with Senate Joint Resolution No. 63.
The content contained herein does not necessarily represent the position of the NSDAR. Hyperlinks to other sites are not the responsibility of the NSDAR, the state organizations or individual DAR chapters.